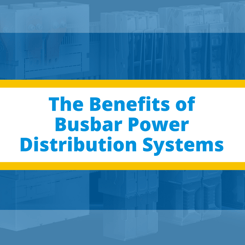 A typical busbar system is made up of copper busbars and splice connectors, and provide a standard way of making connections to panel mounted and bus mounted components. A high degree of safety is maintained throughout all such actions. Busbar power distributions systems are gradually taking over conventional wiring methods as they have a number of benefits attributed to them.
These may be classified as follows:
Design Benefits
Busbar power distribution systems provide highly efficient layouts and simplified bill of materials for control panels.
A busbar system is a replacement for two major items within a control panel:
Power distribution block

Line-side wiring
As these two items are replaced, designers are able to focus more on reducing the enclosure size and integrate controls spread over multiple enclosures. Furthermore, the entire system becomes extremely economical, and provide a more well-managed, aesthetic look within the industrial workspace.
A typical busbar system is designed to house a number of internationally recognized electrical components. This makes installation and execution extremely simple. UL/cUL listings are followed while CE conformity and GL acceptance ensures that the components have undergone proper testing.
Integration Benefits
Industries are heavily focusing on lean manufacturing, which makes it necessary that no stone is left unturned in ensuring maximum efficiency. In the US, traditionally power distribution has been done through power distribution blocks. The process takes a great amount of time, and also takes too much space. These costs add up exponentially as the requirements increase. In retrospect, a busbar system can solve all these problems. Connection adapters can be widely utilized instead of huge, parallel cable-runs from the main distribution block to the adjacent enclosures.
Quick mounting and termination makes up for yet another benefit of using busbar systems. Connection adapters provide an easy way to terminate cables without having to drill and tap the bar. This not only saves time but also minimizes cost as no more ring terminals and cable lugs are required. Component adaptors can be used for attaching DIN-mountable devices such as contactors, miniature circuit breakers, starters, etc. without having to measure, cut and strip wire leads.
End-user Benefits
It's quite simple to understand how these benefits can account for a more cost-effective system for the end-user. But in addition to those benefits, a busbar power distribution system can also deliver safety certifications to an organization, which translate into reliability. Busbar power distribution systems follow all major international standards including CSA, UL, GL, and CE. These international certifications make the busbar system extremely flexible allowing easy-integration of modern electrical/electronic components.

Interested in learning more about Premier Automation?