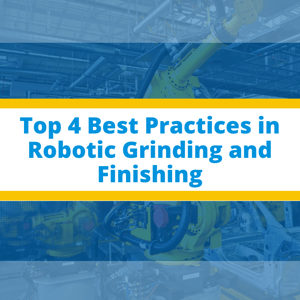 Robotic grinding and finishing are relatively new industrial concepts, with companies are still innovating standard practices that would ensure a high Return on Investment and long-term sustainability. Both concepts show a lot of potential, but site owners often run into problems related to efficiency.
The following four tips can help you ensure that your robotic grinding and finishing.
Controlling force of grinding
By applying control over the grinding and finishing systems, the product quality can be improved as proper force would be exerted at all times. Fixed passive controls or variable controls with feedback can be employed for this.
Selecting the right robot
Quite often, a robot of inconsistent dimensions may be chosen for grinding purposes. Assessing the scope of the robotic implementation in advance can help boost productivity. For instance, a six-axis robot is likely needed for grinding applications, however, alternatives should not be discarded depending on the workload and required rate of ROI.
Suitability of grinding equipment
Make sure that you have sufficient horsepower and strike a balance between rigidity and flexibility in the contact wheel when choosing the grinding equipment. Often, robotic equipment is given precedence that leads to ineffective grinding equipment.
Follow phased automation
Automating all processes in one go may take a toll on the human and capital resource of your organization. Instead, following a phased methodology would be cost-effective as well as productive as it would allow identification of mistakes in advance, which can be rectified within future implementations.
Interested in learning more? Visit our website www.premierautomation.com, or talk to one of our specialists today.