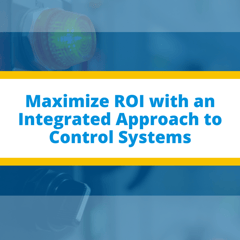 Industrial organizations are aligning themselves with Industry 4.0 and IoT not because it's a general trend, but because such automation technologies can greatly influence one of the most important factors in a business: profitability.
The best way to ensure a high return on investment is adherence to open standards, allowing frequent upgrades at manageable costs, effectively future-proofing an industry's infrastructure. For decades, PLCs have been the backbone of all automation technologies. Advancements in embedded cybersecurity, compliance to communication standards, and greater integration capabilities are all factors that can notch-up the productivity and reliability of PLC applications.
Increased Cybersecurity
Security has always been a major concern for every industrial organization. Cybersecurity breaches due to vulnerabilities within the communication links can lead to:
Significant damages to the personnel and public

Malfunction of plant assets and equipment

Bad reputation for companies in terms of client-confidence
The ISA Secure Embedded Device Security Assurance certification has been designed to address all such concerns by securing the integrity of PLCs and its development cycle through rigorous communication robustness, functional security assessment, and software analyses.
A secure boot is considered one of the best ways to maintain the integrity of a PLC by adding a physical layer of security on the CPU. In addition, techniques such as configuration of built-in firewalls can protect against over-the-network attacks such as DDoS, and message flooding at the control level.
OPC UA Reliability
The new breed of PLCs entering the market has been tailored to provide a solid platform to Industrial Internet of Things, to better leverage data across dynamic plant infrastructure. The OPC UA specialization offers secure integration of both hardware and software throughout the industrial environment, and promotes interoperable coherence, making the entire infrastructure flexible to changes and upgrades.
As OPC UA is no longer solely based on Microsoft OS technology, it has gained recognition as the protocol of choice for IoT-based activities. By utilizing OPC UA's capabilities, one can maintain independence from manufacturer, industry, or company specific hardware/software, while keeping legacy equipment preserved for conventional operations.
Specific benefits of the OPC UA Protocol that translate into greater RoI include:
Secure connectivity throughout the plant infrastructure

Platform independence

Eliminating external hardware for multi-level communication

Flexibility to meet industry requirements for digitization

Integration of third-party hardware/software with convenience
Integration of Control Systems
By combining control systems from the same manufacturer, coordination can be made easier between different teams, resulting in faster setup and troubleshooting sessions. An integrated solution can provide pre-built diagnostics, alarm summaries, and trending histories that can enhance the level of automation within the system.
With manufacturers now providing distributed control systems, or DCS, and PLC implementations, users can untangle process operations by deploying equipment with a common life cycle rather than a customized interface. Doing so brings major cost cuts such as those related to engineering, maintenance, and upgrades.
In addition, standardizing deployments can help teams extend long-term support and train newer staff, lifting companies' helplessness of keeping older staff in place to keep their systems up and running.
Every industrial organization that adopts automation wants to make sure that their assets are secure, futuristic, and standardized. Initiatives such as the Industrial IoT, Industry 4.0, and Smart Factory provide these features to organizations, resulting in smarter, more coherent systems. This drives innovation, and kick-starts advancements whose benefits are ultimately reaped on a global scale.
Analyze the Efficiency of Your Automated Control Systems
Looking to optimize your assembly line and save some money on energy costs? Talk to the us at Premier Automation! Our engineers are nationally ranked System Integrators — experts at upgrading automated control systems and making your company more efficient. Talk to us for a consultation below.