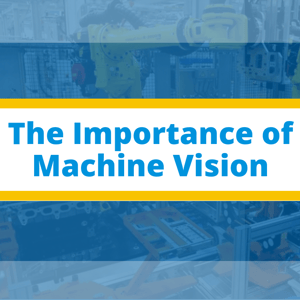 Robotic assembly applications have ballooned in recent years, both in terms of numbers and complexity. Industrial robots today are supplemented by an array of technologies that help them respond better to unpredictable situations, while increasing their range of applicability. Smart Camera Machine Vision is one of these technologies, which, when combined with Industrial Robots holds the prospects of doing wonders.
Machining and assembling processes involved in integrating the two technologies may be complicated, but through a top-down approach can be tackled effectively. The steps followed by Ryan Berman, President of Matrix Design Inc. for using smart camera machine vision to create a multi-robot cell for assembling bearing blocks serves as the perfect example.
A custom-designed gravity roller conveyor was first introduced with a pallet of bearing block slugs. These were bored, with the top face fly-cut during the machining process. Next, the two Fanuc M-16iB machine tending robots were used to transfer parts to a middle assembly cell where the 200iB picked two self-lubricating bearings whilst using a DVT Legend 530 machine vision system to align them at a set angle. Finally, an Allen-Bradley PLC was used to control a press for fixating the bearings into a block.
From here on, the bearing block can be transferred back into the machining cell from where further deburring operations can be performed. A coordinate measuring machine inspects the parts for consistency, and if required reports any irregularities so that corrections can be made.
While Machine Vision greatly assists in the manufacturing of these parts, problems can arise due to customer expectations. For instance, if a customer wants to produce different parts on each pallet, then the machine-tending robot would have to accommodate two different part types while the assembly robot would have to deal with four. This means, depending on the timing the robot would have to perform in an asynchronous manner.
While the bearing block example was quite straight forward, the assembly process was much more complex. Matrix Design Inc. faced a lot of issues with the assembly, as they were required to orient two self-lubricated bearings for insertion into the bearing block. Each bearing had to be positioned rotationally with a 1-degree accuracy, while keeping into account that the angle of orientation could be different.
This is something that wouldn't have been possible without Machine Vision, as producing a variety of parts within the same robotic cell is extremely difficult, complex and costly with mechanical orientation systems. In order to develop this solution, a DVT camera along with dark field lights were used to control the robot, and ensure the bearings are rotated properly. Once the bearing had been oriented, the camera inspected to make sure the orientation was within acceptable standards.
An Allen-Bradley CompactLogix PLC was used to tie it altogether while communications were carried out along Ethernet channels. The SI was aware of the difficulties the customer would face with configurations & troubleshooting, and therefore connected the robotic cell to their own networks, allowing them to provide support within shorter time frames.
Interested in learning more? Visit our website www.premierautomation.com, or talk to one of our specialists today.