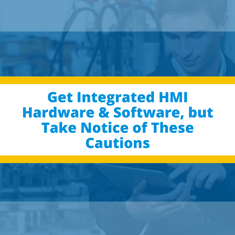 There's no single way to do something right. Instead there are multiple paths of which the most suitable one must be chosen according to the situation. HMIs play a vital role in driving the industrial bandwagon, providing us with monitoring, control & automation capabilities. When working with HMIs, there are a few factors that you should be particularly careful about. All of these have been discussed in detail below.
Integration
Don't mix and match. Buy HMI hardware & software at the same time so you're well-aware of the requirements at the time of procurement. Choosing integrated hardware as well as software would always be more fruitful, then trying to find compatible software for your hardware. One of the best ways you could make sure your system remains robust is by buying hardware & software from as few vendors as possible.
As systems are prone to expansion, have a template prepared out in advance based on a currently implemented system. This would greatly bring down the development costs. Always be sure to purchase equipment that would sit well with the existing infrastructure. You should be especially careful and make sure that the HMI hardware & software is compatible with the Programmable Logic Controller being used.
While choosing your hardware & software, you should take special care of the standard protocols & interfaces in use. Try to work with hardware that is compatible and open to other protocols. This would ensure interoperability, which would only lower the cost of the system in the long-term.
Cautions
One of the biggest concern in the automation industry is change. Several companies tend to change their designs or drop support for their technology, leaving their clients high & dry. This has a recurring adverse effect as once support is dropped, clients have to rely on their inhouse knowledge. This adds to greater costs, year after year, as well as loss in productivity.
The problem however highlights the importance of in-house R&D as sometimes mission-critical equipment seldom requires upgrades. Still, it is recommended to go with more trusted companies that retain their support for a certain time period.
Before commissioning an HMI solution, test it thoroughly, from all possible aspects. Do not forget about environmental testing, and check if the hardware would withstand intense industrial conditions before bringing it online.
Flexibility
Always be aware of the shifting market trends. Research what's out there, and in case there's a piece of hardware/software that promises greater performance for an aging system, with minimal economic loss over a long-term, go for it. Being open to change is extremely vital as technology is rapidly changing, especially during a time where concepts such as Industry 4.0, IoT and Smart Factory are taking over.
Keep your operations simple. Make sure that your technicians are well-informed about the system being installed from the bottom-up as faults will arise that would require quick rectification. Maintain comprehensive documentations as well as supplementary materials necessary for the hardware to function properly.
Cybersecurity
Waiting until the very last minute till the hardware/software fails or the vendor withdraws support is not the way to go. Implementing hardware/software always take more time than expected.
One of the biggest issues that you will face with your HMI would be Microsoft Windows upgrades. Microsoft Windows has a shorter lifespan compared to embedded systems, pushing for upgrades that can't be supported by the installed hardware. Given the connected nature of most systems, updates are necessary, which end up bogging down the system thus requiring a total upgrade altogether.
The ability to meet the ongoing security requirements should be the system integrators' top priority. A well-organized and continuously updated scheme should be used to make sure unwanted access can be blocked. Cybersecurity of interconnected systems is extremely important, not just because it can lead to loss in revenue but also because malicious minds can cause material & mortal damage.
Interested in learning more? Visit our website www.premierautomation.com, or talk to one of our specialists today.