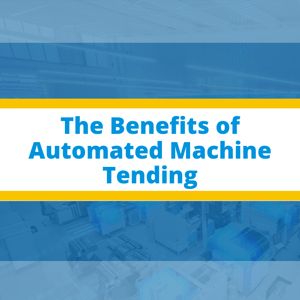 The automated process that involves tending a machine such as a Computer Numeric Control (CNC) is known as Robotic Machine Tending. The process is usually highlighted by loading/unloading of raw materials into a machine and delivery of finished products out of it.
It must be noted that robotic material handling and robotic machine tending are two different concepts, as the latter is more complex. The systems involve in tending often have to communicate with CNC machines, and perform different functions in a single application.
The following applications are handled by Automated Machine Tending:
Grinding

Injection and compression molds

Milling

Stamping, punching and forging
The specific process carried out by the robot may vary but more or less the application would involve some sort of loading/unloading.
Benefits of Robotic Machine Tending
Machine tending can greatly reduce downtime within processes and shorten the interval after which outputs are generated compared to manual loading/unloading. The only time the robot would result in downtime would be when it would be stopped for maintenance.
In addition, robotic tending systems have a much higher accuracy and repeatability compared to manual resources. This greatly improves the overall quality of parts as well as reduces errors in the manufacturing processes, thus maximizing throughput.
Interested in learning more? Visit our website www.premierautomation.com, or talk to one of our specialists today.