Internet of Things has brought several changes to the conventional manufacturing landscapes, one of the major ones being the new wave of data streams due to a wide variety of sensory devices. Industrial Analytics is a concept that sits at the helm of all this, turning raw machine data into information that can be used to drive intelligent operations and processes.
From manufacturing to process handling, industrial analytics can provide a solid foundation for industries to steadily ease into the web of technologies encapsulated under Industry 4.0.
The working is simple. As IoT aims at connecting machines, equipment and industrial processes to business processes, it requires data processing at a massive scale. By applying analytics platforms, a manufacturer can gain insight into day-to-day operations, and use these to intelligently scale up/down the production rate.
The Manufacturing Sector hosts a typical production-industry environment that can be visualized by digitally controlled automated systems that constitute of microcontrollers, programmable logic controllers and associated circuitry. SCADA or Supervisory Control and Data Acquisition is used as the base of operations, or in case of bigger units, DCS or Distributed Control Systems are also installed.
Human operators or algorithms are necessary to make sure equipment is operating in normal state. Analytics Platforms have been developing over the past decade, and can transform this industry, as manufacturing units are blessed with the wealth of redundant sensory data. This data has substantial value if put to use, giving managers and decision makers valuable insight into their operations.
Industrial Analytics can help control engineers detect anomalies, faults and automatically raise alert or carry out the required action.

Smart monitoring can be performed more effectively and efficiently so that increased utilization of machinery comes at a lower cost.

This will also improve the quality of production, in addition to the quantity as machine parameters will be fully optimized. Furthermore, energy wastage would also be capped as well as excess depletion of raw materials.

Increase the reliability of the overall system by warning the field engineers of any upcoming maintenance or breakdown. This will prevent any unforeseen wastage of resources or workforce, and allow for the timely operation of backup machinery.

In a production environment, analytics will reduce reliance on human operators for detecting data patterns. Advanced algorithms would take over the task which would make fault-detection easier & more accurate, especially for complex, high-dimensional data.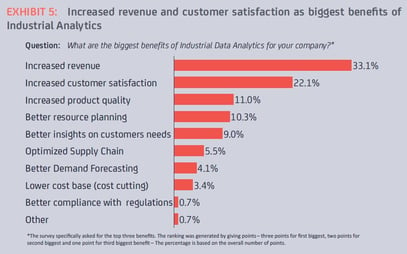 Through deep integration of manufacturing data with enterprise-information systems, businesses processes and planning can be put on the fast-track. Moreover, the supply chain would now be fed with real-time data, instead of relying on predictive inputs, shortening the supply/demand gap as well as improving customer relations. The ultimate strength however would come from competitiveness as the manufacturing business would now retain an upper hand or at least be the part of a neck-to-neck contest.
An Industrial Analytics Platform in comparison to a tailor-built solution can provide greater flexibility, reliability and accuracy for IoT deployments. The platform would be able to power all cutting-edge Industry 4.0 technologies including Big Data, Cloud Computing, and so on without requiring extensive redevelopment, from time to time.

Interested in learning more? Speak to one of our experts!