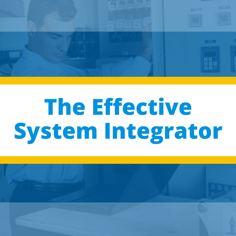 At one point or another, a manufacturing company looking to automate their systems would require the services of a System Integrator (SI). Knowing about the traits and practices of a good System Integrator can go a long way, and help build a system that pays itself off with the passage of time.
So, what exactly is a System Integrator? Technically speaking, a System Integrator is a company that analyses the user's requirement, determines the components required to fulfill the requirement and constructs a system that gets the job done. The System Integrator does innovate in a sense that it combines several parts and shapes them for the issue at hand, however seldom does a SI carry out R&D.
Usually, a System Integrator is an independent company that deals several other companies. However, sometimes a large company may have its own inhouse development team for coming up with solutions native to its industrial workplace. On the other hand, sometimes system integrators are more of machine vision integrators They work with hardware such as camera, lighting, optics, processors, etc. along with mounting equipment, but do not supply any material equipment.
The main reason as to why an end-user comes to a System Integrator is simple. The client realizes that there is no single piece of hardware that gets the job done, and designing the solution takes intellectual resources. A SI essentially brings in resources as well as manages risk for the client for a project.

Managing Risks
What may be large risks for the client, are actually smaller risks for the System Integrator. A SI has specialized skills necessary to get the job done, and has resources that include knowledge & experience, both of which in effect reduce risk enable effective risk management.
Risks are inherent in any business, especially one where engineering activity is involved. However, these risks can be mitigated through proper use of knowledge and experience. Therefore, a system integrator must be technically sound, so that the solution provided is foolproof and not one that's acting as a test bench. Moreover, the SI should have a proper mechanism in place to identify any risks and dealing with system failures as they occur.
Skills and Resources
Usually end-users do not possess the resources to tackle the complexity a system integration project brings with it. Resources such as staff, facilities and most importantly skills are short and already burdened with their own work. In retrospect, System Integrators are equipped with handling even multiple projects at the same time, and usually rely on a diverse skillset to accomplish various tasks. These skills include:
Electronics

Image processing

IT

Documentation

Process Engineering

Project Management

…& so on
The end-user may possess some of these skills but it is very rare to hold all at the same time. The final component of resources that is possessed by System Integrators is relationships. Integrators usually have a long list of contacts that help them design and execute a project, from suppliers to third party developers.
Changing Requirements
The specification provided by the end-user at the start of the project is an extremely essential piece of document, one that goes a long way. It is best developed by the client, and refined by SI frequently to make sure all the requirements are understood before a permanent solution is developed.
Nonetheless, it is very common for requirements to change while the project is undergoing. There may be minor changes to the specifications or there may be a fundamental change that might change the direction of development. A very common problem is "specification creep", which is caused by an increased sense of awareness from the end-user's side to extract as much value from the system as possible. The only solution to such problems is quick delivery, and timely education of the end-user about the triple constraint that includes scope, time & resources.
Premier Automation: Your Trusted Systems Integrator
Premier Automation's Systems Integration experts have the experience and skills to work with today's leading manufacturers to better integrate and improve their automation processes. Our ultimate goal is to create a totally integrated automation environment for our customers which ensures better reliability, higher quality, and total production visibility. We work with most major automation equipment suppliers in order to offer you the best solution.
Interested in learning more? Visit our website www.premierautomation.com, or talk to one of our specialists today.