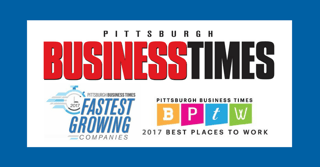 August 7, 2017 - Premier Automation has recently been confirmed a winner of the 2017 Fastest Growing Companies by the Pittsburgh Business Times! In addition to receiving this recognition, Premier Automation was also a winner of the Pittsburgh Business Times 2017 Best Places to Work.
With nearly 100 employees, 8 of whom were part of the original founding team, Premier Automation's vision remains the same as they strive to help local, national, and international companies become more technologically advanced, efficient and competitive through innovative answers and passionate engineering. Premier Automation looks forward to many more successful years.
Stay tuned for more information on Premier Automation's rankings!
Premier Automation's Difference:
What sets Premier Automation apart is the wide range of in-house services that we offer which provides reliable, complete, fully integrated customer solutions. From concept to completion, our engineering, production & field service staff are unmatched in industrial automation experience and ability. Premier Automation serves as a true electrical control partner to companies that are in need of innovative solutions, strategies & support to help them compete successfully in today's highly competitive global environment.
If you're seeking a partner for your next automation or controls project, contact one of our experienced engineers to schedule a free on-site visit. Find out what makes Premier Automation a leader in efficient, creative engineering solutions.