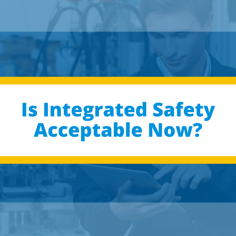 Safety should never be seen as a function, forcefully imposed upon a well chalked-out process. Integrated safety has long been seen a dangerous concept to masquerade with, making manufacturers design safety as a separate component. While doing so may make planning easier by adding another major step into the entire process, it actually adds complexity in the form redundancies.
Companies are now realizing this point and gradually shifting towards integrated safety concepts. For instance, Paper Converting Machine Corporation in Green Bay, Wisconsin uses an integrated safety platform from Rockwell to help its engineers plan upgrades while keeping safety in the equation. The integrated controls mean the engineers can perform all sorts of risk assessment while defining the functional requirements early in the design process. In addition, the engineers work in one programming environment since all the process and safety controls are on the same platform.
Separating safety from the functional design actually increases complexity because as the design becomes more sophisticated, more safety components are required, usually in the form of relays or integrated controllers. These require wiring, something that would be extensive if done as a separate step rather than an integrated process.
Overloading
Integrated safety is now seen as a concept that would deliver the expected reliability. This means all signals would be consolidated onto a single fieldbus that can carry safety and non-safety signals. In order to establish such communications, vendors are now adopting technologies that were already existent and being used for general-purpose I/O. This has greatly reduced the complexity of the entire system, while establishing fail-safe operations over existing networks.
One example of such connectivity is of a shared bus operating as a safety monitor on an AS-Interface communication network. The one-network concept has become highly popular for integration, even though some might prefer separation at the controller level.
This concept is now making headway into the chemical and petroleum industries as well where incidents can quickly go out of hand, and result in expensive repairs, apart from human fatalities and environmental damage. For such industries, following a hybrid approach is often the right thing to do as it ensures that the safety functions remain separated from the main processes at the controller level, but remain integrated at the network level.
Still if any issues remain, they can be eliminated using redundancy and protection layers. This can be done by introducing ring topologies and loop-back features, allowing communication even in the case of a cable-cut.
Overloading
The field bus that serves as a backbone for all communications, safety related or otherwise shouldn't be loaded to a point where it faces congestion. This can greatly increase the response times, bringing down the throughput of data and ultimately adversely affecting the productivity and safety. It must therefore be made sure that the network at all times is performing at optimum level and isn't being stressed too much.
Nonetheless, if loading must be done, vendors can be instructed to set-up high priority channels on the fieldbus so safety information would always transfer at prioritized rate. An example would be the black channel that Profisafe keeps on its Profibus and Profinet protocols. Safety information can flow through this channel, unaltered by the congestion on the rest of the network.
If the response time is still not up to the mark, then one might consider hardwiring controls. But it must be remembered that doing so would make the system highly inflexible, and also increase the wiring cost of the entire project. Therefore, having an integrated communications environment in place would be the best way to go.
One Could Say Otherwise
Even though integrated systems save money, time and enhance functionality, some users might still hold something against it. It is argued that having integrated control and safety might increase the risk of common-cause failures. The risk would originate from shared components, meaning failure of the component would result in loss of utility in both safety & control applications.
Such users argue that having separate operating systems, configuration programs and network for safety would ensure that the system never falls due to loss of functionality in a shared component.
Conclusion
The tide is turning towards Integrated Safety Systems as they provide greater functionality, flexibility and most importantly productivity. As far as the problem of multiple failures is concerned, yes it does exist, however careful planning and redundant topologies can ensure that the system keeps going.
Interested in learning more about ways you can improve your facility's overall safety? Speak to an expert at Premier Automation.