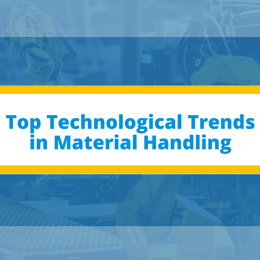 Many of the technologies that are changing the fabric of the society are also entering other sectors such as material handling. Warehouses and distribution centers are now faced with concepts such as Internet of Things, Artificial Intelligence, and Big Data. These concepts can greatly improve the efficiency of the establishment, but they can possess a steep learning curve.
While still new to the industrial world, these concepts are already finding use within industries that will serve as proving grounds for new material handling technologies. The future of warehouse management is dependent on a handful of key technologies that include Big Data and the Internet of Things.
Big Data and Analytics
Data is predicted to be one of the biggest drivers of productivity in the years to come. It's always been there, but has been sidelined due to lack of tools that have the ability to capture and process it. Big Data simply refers to information that exceeds the processing capacity of traditional software such as databases and spreadsheets. In the specific context of warehouse management, Big Data can provide aggregation, inspection, refinement, transformation, and modelling of data so that effective decisions can be made to raise productivity.
Today, the concept is aided by the mass-digitization of information and processing and cloud computing that makes resource provisioning highly flexible. However, the material handling industry is still confused regarding adoption of Big Data, primarily due to issues such as data consolidation, integration, and privacy.
While these concerns are genuine, these must be overcome as the benefits that Big Data have for warehouses are too good to be ignored. Still, if analytics are sidetracked by a business, then the end-result would be automatic cleansing by the competition. With Big Data, companies can track things like equipment utilization and operator productivity to reduce negative impacts.

Internet of Things
Internet of Things is the buzzword of the automation industry, incorporating the sensory and communication technologies that enable physical objects to be tracked and controlled across a network. When put into the warehouse's perspective, Internet of Things, or IoT, holds the ability to support communication and coordination across assets such as retrieval systems, forklifts, and conveyors, increasing the visibility and usability of the system.
A simple way to understand the disruption brought by IoT is the smart home concept. An array of sensors would detect your presence, and as per your desired settings control the lighting, temperature, and other utilities. While the concept doesn't speak volumes, it gives a glimpse of the possibilities of IoT. Imagine what connectivity, intelligence, and control can accomplish in a warehouse where hundreds of disparate elements such as robots, AGVs, forklifts, HVACs, pick carts, and lighting work in an uncoordinated manner.
Having devices that are able communicate is the first and foremost step to incorporating Internet of Things. Next, the data must be aggregated for analysis, and decisions must be pushed to each device to enable automation in its true sense. IoT isn't something that still sits on the horizon; it is well alive. For instance, forklifts today are equipped with wireless connectivity, storage, and sensors that can be integrated within a coherent management system.
With the growth of automated material handling, new ways to automate the process will emerge with the rise of new technology. Whether it's improvements to data collection for Big Data, new ways of implementing the Internet of Things, or something entirely different, paying attention to what's going on is important. Because those new technologies might be making their way onto your plant floor.
Interested in learning more? Speak to one of our experts!