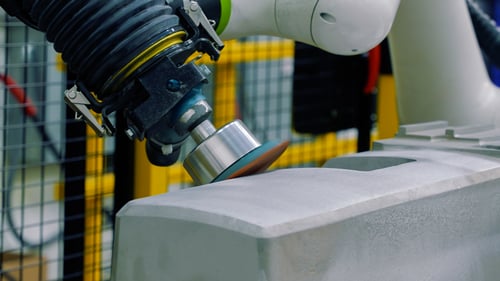 What is the Problem?
Harmony Castings is a job shop for cast aluminum parts. Several secondary operations are required after the casting process: gate and sprue cutting, heavy flash grinding, and surface finish grinding. Each operation is performed by an operator using hand-held equipment. This leads to strain from repetitive tasks, and increased labor.
Objective:
Harmony Castings wished to reduce the labor required for the secondary operations, and the strain that comes hand in hand with the repetitive tasks imposed upon their operators. Harmony Casting's plant manager, began working with Dynabrade and Ferrobotics on a proof-of-concept demonstration for the surface finish grinding process. A Fanuc CRX robot, a Ferrobotics' active contact flange, and a Dynabrade orbital grinder were used for a demonstration at Dyanabrade's R & D facility. While the results were very encouraging, Harmony's plant manager realized that he would need the assistance of a systems integrator to realize a production-level system. Harmony's plant manager reached out to Premier Automation.
Solution:
Premier Automation generated a system arrangement comprised of two Fanuc CRX collaborative robots, each mounted onto a Macron Dynamic RTU (robot transport unit). Both of the robots would service two adjacent part stations by moving back and forth on the RTU. This configuration provided for the ability of the robot to process a part at one station while an operator exchanged parts at the other station. Each part station was comprised of an aluminum extrusion t-slot table. Part work holding was created using MDF (medium-density-fiber) boards, as a base plate, and applying 3D printed part support fixtures to the boards.
For the grinding process: each robot was equipped with the Ferrobotics active contact flange, which delivers a constant force against the part, and the Dynabrade 5" angular grinder with an orbital adapter. Robot motion path programs were generated for each face of a part using a combination of hand guidance teaching and Fanuc's Roboguide simulation software. Process adjustments for grind force, robot speed, and path can all be made through local HMIs.
Additional features of the system included part verification, using the robot to touch off on a part, an overhead monitor with production data displayed, and the logging of time on part for predictive media change.
Result:
Harmony Castings now reduces their labor, repetitive operator tasks, and realizes quality improvements with a Premier Automation custom workcell.



Interested in learning more? Contact one of our technology experts today!