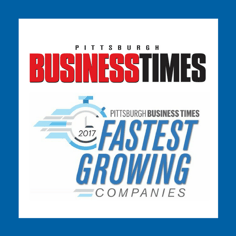 Premier Automation has recently been confirmed a winner of the 2017 Fastest Growing Companies by the Pittsburgh Business Times!
The results are in, and Premier Automation has received recognition for their 17.2% growth in sales from 2014-2016. There are 101 companies ranked by overall growth and within industry categories. With an overall ranking of 91, Premier Automation also received the ranking as number 8 in the Environmental/Engineering/Energy category.
Now with 106 employees (8 of whom were part of the original founding team) Premier Automation's vision remains the same as they strive to help local, national, and international companies become more technologically advanced through innovative answers and passionate engineering. Premier Automation looks forward to many more successful years!
Premier Automation's Difference:
Premier Automation was founded in 2002 by a group of engineers in Pittsburgh who wanted to bring local companies up to date with technology, and help them become more efficient and competitive. Today, we're doing just that, but on a national and international scale.
If you're seeking a partner for your next automation or controls project, contact one of our experienced engineers to schedule a free on-site visit. Find out what makes Premier Automation a leader in efficient, creative engineering solutions.