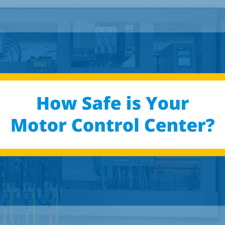 A Motor Control Center (MCC) is an integral part of a manufacturing plant, and its continuous operation is vital if the company wants to make a profit. The safety of Motor Control Centers is a hot-topic in modern equipment design due to the ensuing hazards, most notably arc flashes. The safety of both the MCC as well as the personnel who operate it should therefore be a priority and appropriate guards must be in place to tackle any emergency.
Motor Control Centers may be driven by automated drives and PLCs, but their safety mechanisms are almost always hardwired. This not only brings down reliability of the system but also reduces the workability and flexibility of the safety mechanism. Integration of emergency devices such as push-buttons and sensors to a centralized system can greatly improve the safety situation. For instance, a fire hazard or a manual press of a button would not only cut off power within the MCC but also take remedial steps within the units connected to it. Furthermore, such safety standards would also help the engineering team diagnose the problem and pinpoint its exact location leading to lower downtimes.
Safety PLCs can provide a repetitive level of security that simply is unachievable through human monitoring. Routines and programmed functions of a PLC would automatically monitor and engage appropriate actions, leaving control engineers with more creative and productive tasks.
Upgrading a retro-MCC with automation equipment may be possible but a better alternative would always be a smart-MCC which would allow interfacing with all the necessary parameters (voltage, current, etc.) using common protocols such as MODBUS, PROFINET, CANOPEN, etc. This would ensure the quickest response and offer a more comprehensive approach towards equipment and personnel safety.
To find out how you can integrate more safety sensors beyond the walls of your facility go to our website www.premierautomation.com or talk to one of our specialists today.