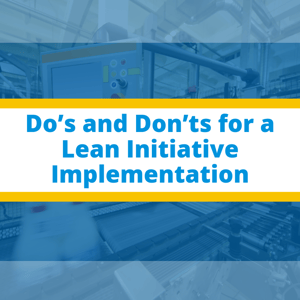 Lean methodology has gained significant traction within modern organizations who want to ensure top operational efficiency to compete with adversaries in a globalized market. The list below presents the do's and don'ts that can be followed by manufacturers for their lean implementations.
Do's
Wasteful habits must be identified through a root-cause analysis. This can be done by asking questions that begin with "why," so root cause of waste can be identified.
Creating a process map would allow clarification of steps and remove confusions among team members belonging to different departments. Visual aids can make the process simpler and interesting as employees are less likely to go through every single line of a 100-page documentation.
Develop a value stream map to gain a clear distinction between the value-added steps and non-value-added steps of the process, summing up the time for each step and cumulatively for the process.
Don'ts
Without proper ground work, standardized tasks and defined processes, starting a lean strategy implementation would result in disaster.
Optimizing a process that is already riddled with problems would be a lengthy task. Instead, a bad process can be designed from scratch with a lean strategy in mind.
There may be negative criticism of lean processes from within the company. Avoid naysayers but at the same time pay attention to any suggestion that may improve the implementation's efficiency.
Top five tips for lean implementation:
Management decisions should be based on long-term philosophy, even if this means sacrificing short-term goals.
Workload must be leveled.
Problems should be brought to the surface through continuous process flow.
Visual controls must be used so that no problems are hidden.
Respect your work partners, promote the lean philosophy within the organization and ensure that all positive feedback is accounted for.

Interested in learning more? Visit our website www.premierautomation.com, or talk to one of our specialists today.