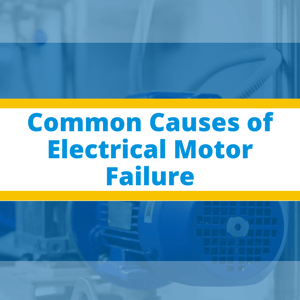 Motors form the backbone of almost all major industrial operations, irrespective of the industry chosen. Motor failure can lead to unscheduled downtime and increases in costs from replacement and/or maintenance.
There is no fixed threshold regarding a motor's lifetime after which it will fail; common numbers put forth by manufacturers are 30,000+ hours. However, a consensus has been developed among manufacturers and users alike that proper maintenance can greatly reduce the risk of unexpected failure.
Let's discuss the most common causes due to which an electric motor may fail to get an idea into the root-cause of the problem.
Weakened Insulation
Almost half of electrical failures within motors creep in from weak insulation around the wires in the motor coils. Thermal stress, contamination and movement of the winding due to magnetic forces are common causes of weakened insulation.
Thermal instability can also lead to insulation degradation. It has been found that for every 10 degrees centigrade rise in temperature, the insulation's lifespan can decrease by a factor of ½. Overheating is usually caused by poor power quality resulting in abnormal operation of the electrical motor to maintain its output.
Contamination
Industrial environments are full of contaminants that may be in the form of airborne dust, dirt or abrasive substances. When these materials find their way into the motor, they can cause denting of the bearing raceways and balls giving rise to high vibrations and wear.
Preventing contamination however is quite easy as primary sources include dirty tools, improper installation area, etc. Engineers can work to devise specific "clean" areas that must be free of contaminants; these may be closed-off to personnel and for high-end applications may even by supplemented by hardware such as air-conditioners, dehumidifiers, etc.
Lack of Maintenance
A preventive maintenance regime can greatly boost the operational lifetime of motors and generators, reducing the need for unscheduled repairs and replacements. First step towards achieving this goal is carrying out tests that would give an insight into the motor's existing conditions.
Static tests are a common practice within the industry that helps identifying weaknesses with regards to the motor's winding. With the right tools and expertise, these tests can even be carried out without ever taking the motor offline, minimizing the downtime. An example of equipment that help make this possible is Euroserv's SKF Static Motor Analyzer Baker DX.
As a final note, instead of waiting for machines to fail, engineers should put an all-out effort to, first increase their overall lifetime by running them in optimum conditions, and second through rigorous testing to analyze the motor's behavior over a longer time span, culminating in the form of predictive maintenance.
Interested in learning more? Visit our website www.premierautomation.com, or talk to one of our specialists today.