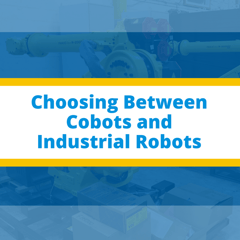 Robots have served as the backbone of the manufacturing industry for decades, replacing humans in repetitive, laborious and time-consuming tasks. Advancements in engineering introduced robots to Artificial Intelligence (AI) and soon, the idea of collaborative robots took over. The scope of having a machine understand and work with you was promising, triggering developers to vigorously work on the idea. Simultaneous advancements in technology and boom in processing capabilities, turned the entire idea into practicality.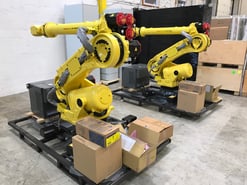 Autonomy is the core of cobots or collaborative robots, which have been designed to acknowledge and share the industrial workspace with humans, shifting themselves as per requirement. Industrial robots certainly hold a grip over the market, and are still in production, but cobots have definitely entered the market as a competitor to them.
Today, manufacturing industries are often left puzzled with the decision to choose between Cobots and Industrial Robots to get the job done. One of the best ways to answer such queries is to assess your company's requirements.
The following questions can help you do so:
Why do you want to automate?

Is the working environment capable of guaranteeing the safety of humans?

Are your processes prone to change or follow a routine?

Is your goal total automation or supplementary help for manual tasks?

Is the working environment capable of accumulating a full-sized robot or cobot?

What are your long-term goals? Do you plan on scaling up with the passage of time?
Both Cobots and Industrial Robots have their own areas of expertise, and as stated earlier, there's no jack of all trades.
Take a look at the benefits and drawbacks of having a cobot: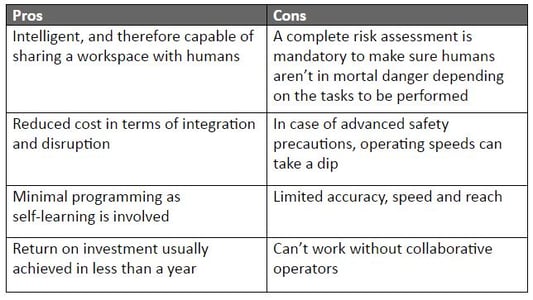 For Industrial Robots, the following table can created:
It can be concluded that the choice between cobots and industrial robots is highly application dependent. Nonetheless, ISO/TS 15066 provides comprehensive safety guidelines for introduction of robots in collaborative practices. It may be argued that under complex programming and heavy safety mechanism, any robot may be turned into a collaborative one. However, cobots hold an edge of being natively designed to work with manual labor instead of relying on constant monitoring and firmware modifications.
Premier Automation

is a Robotics Value Provider for ABB Robotics and an Authorized System Integrator for Fanuc Robotics.

They design and implement automatic robotics systems for industrial OEM and End User customers.