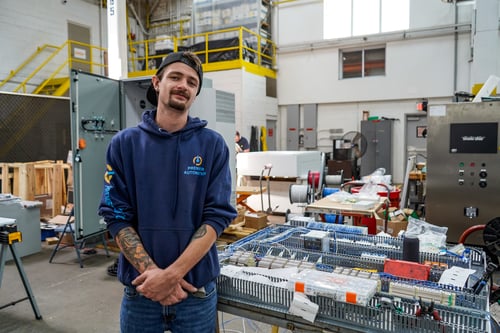 Premier Automation: A Unique Career Opportunity in the World of Electrical Work
Are you passionate about electrical work and looking for a fulfilling career? Premier Automation might just be the place for you! In this blog post, we'll explore the experiences and insights of five individuals - Dave, Connor, Lizzy, Keith, and Mike - who have found their calling at Premier Automation, a company that not only values its employees but also offers a wide range of career opportunities in the field of electrical work.
Dave: Crafting a Unique Career in Wiring
Dave, with a deep interest in all things electrical, decided to pursue his passion by attending a trade school for wiring. At Premier Automation, he discovered that every project was an exciting learning experience. What sets Premier Automation apart is its outstanding company culture, where conflicts are rare, and employees take pride in their work, and strong attention to detail leaves nothing overlooked.
With 20 years of experience at Premier Automation, Dave has had the opportunity to work on various projects, each more intriguing than the last. The company provides excellent insurance, ample time off, and engaging events like picnics and Christmas parties. Employees are not just numbers; they are recognized and valued for their contributions.
Dave highlights that the positive feedback from customers is what keeps the team going. The satisfaction of pleasing a customer and being part of the ever-evolving tech world is what makes his career in electrical work so rewarding!
Lizzy: A Welcoming Family at Premier Automation
Lizzy describes Premier Automation as "a big family with a welcoming atmosphere". The work-life balance is excellent, making it a comfortable and easygoing workplace.
Compared to other organizations, Premier Automation stands out for its genuine care and approachability. Lizzy notes that everyone is willing to answer questions and guide newcomers in various directions. She felt an immense sense of pride upon completing her first project, witnessing all the different parts and individual efforts of everyone on the project coming together seamlessly.
At Premier Automation, employees are not just cogs in the machine; they are valued individuals. The company's commitment to customer satisfaction resonates with Lizzy, as she recognizes that her work contributes to making customers' lives easier.
The perks of great paid time off (PTO), holidays, and health insurance further enhance the overall employee experience at Premier Automation.
Connor: Building a Bright Future in Electrical Work
Connor's journey into electrical work began with his fascination for electricity, leading him to work on the electrical system in cars and speakers. Premier Automation offered him the chance to turn his hobby into a lifelong profession. Connor emphasizes the importance of developing efficient daily processes that allow him to excel in his role.
The company's social atmosphere aligns perfectly with Connor's outgoing personality. Premier Automation builds projects from start to finish, giving employees like Connor a comprehensive understanding of their work. This knowledge can be applied not only at work but also in personal projects, as Connor demonstrates with his car.
Recognition is a significant motivator at Premier Automation. When someone acknowledges his work, it makes Connor feel truly honored. The friendly and supportive workplace environment, where colleagues are like friends, enhances his job satisfaction.
Keith: Passion for Powering Things On
Keith's passion lies in powering things on and testing them, and he thrives on the diversity of the job. At Premier Automation, he and his colleagues have the freedom to come up with innovative ways to tackle tasks while adhering to essential procedures. The company's caring and helpful culture is evident, with flexibility in hours and access to the shop.
One of the standout aspects of Premier Automation is the opportunity to see the entire shop's operations in multiple departments, which not only provides a comprehensive view but also allows for more involvement and more versatile learning experiences and opportunities. Keith's role involves quality control, emphasizing the importance of maintaining high standards.
Mike: Empowerment and Opportunities in Electrical Work
Mike found his niche at Premier Automation, where managers empower employees to take ownership of department tasks. This level of responsibility allows individuals to contribute to essential day-to-day production processes.
Mike's enthusiasm extends to operating forklifts and overhead cranes to help manage an extensive inventory. Premier Automation supports continuous learning and skill development in this area, ensuring a safe and efficient work environment.
One of the standout features for Mike is the day shift hours, a rarity in many industries. The company's commitment to employee well-being, including healthcare and benefits, impressed him. The "customer-first" mentality is another hallmark of Premier Automation, as all departments go the extra mile to satisfy customers, fostering a culture of trust and collaboration.
Moreover, Premier Automation encourages internal mobility and growth. Mike's journey from the shop floor to shipping and receiving demonstrates the company's commitment to offering opportunities to dedicated employees!
In conclusion, Premier Automation offers a unique and rewarding career path in the world of electrical work. With a strong emphasis on employee satisfaction, skill development, and a customer-centric approach, it's a place where your passion for electricity can thrive, and your career can flourish. Plus, with year-round work and a diverse project portfolio, you'll never run out of exciting opportunities to explore. Join Premier Automation and be a part of the ever-evolving world of electrical technology!

Interested in learning more? Contact one of our technology experts today!