What is Telemetry?
Telemetry is defined as the sensing and measuring of information at one location and then transmitting that information to a central or host location (PLC / DCS). There, it can be remotely monitored and used to control a process at the remote site.
The basic concept of remote monitoring with telemetry has been in existence for a long time. Radio telemetry provides a classic but versatile wireless method for transmitting information. Telemetry using radio waves or wireless offers several distinct advantages over other transmission methods, from cost benefits to resilience and security.
In Part 1 of this guide, we'll look at the benefits of using telemetry in your automation solutions.
The

Top Ten

Advantages of Radio Telemetry for Remote Monitoring:


1. No transmission lines to be cut or broken
2. Faster response time compared to lease line / modem
3. Lower cost compared to leased lines
4. Independence – No reliance upon communication company for support
5. Security – Not tied to public networks
6. Ease-of-use in remote areas where it is not practical or possible to use wired (can be combined with solar / wind power generation to make the site self-powered)
7. Easy relocation or for use on Mobile Machine(s) applications
8. Functional over a wide range of operating conditions
9. Can be used in combination with other network types
10. Reduced cost over trenching and cabling
Properly designed radio links can provide low cost, effective and flexible data gathering systems that operate for many years with very little maintenance.
TYPICAL WIRELESS TELEMETRY SYSTEM LAYOUT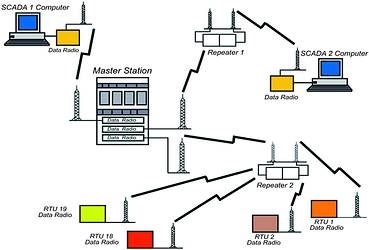 (Sites can communicate directly or use repeaters to extend range)
So You Want to Remotely Monitor with Radio Telemetry
Here's the rundown on how a telemetry system works. At the remote site, an input sensor or sensors are typically the data source; the input signal may be a feedback to commands sent by the radio message to perform an action (start a pump, etc).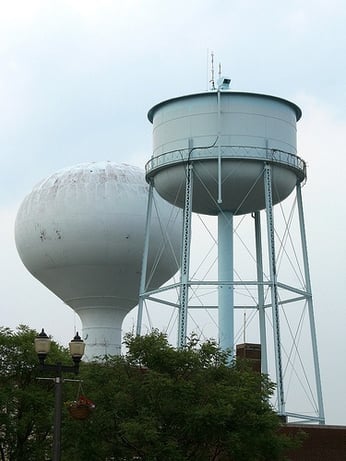 The state of the sensor(s) is converted to digital data by a PLC. The PLC is interfaced to a modem device that converts the digital data into an analog signal that can be transmitted over the air. The radio transmitter then transmits the signal to the host site radio receiver.
Now the process is reversed. The modem takes the analog signal received and converts it back to a digital form that can be processed by the Master Stations PLC. The Master Station may have an HMI, visibly displaying the remote statuses of the system.
In a typical application, the base or host site requests data from the remote site(s). The remote site(s) may also function as repeaters, extending communication distances / locations. The base transmits a request to the remote unit telling it to send its data and perform control tasks. The base reverts to a receive mode and awaits the transmission from the remote site.
After the remote sends its data, it goes back to a receive mode waiting for further instructions to come from the base. Once the base receives the remote site information, it may send additional instructions to that site or continue on to request data from the next remote site. This polling process continues until all the remotes in the system have sent their data status.
Stay tuned to learn about Radio Types (Wi-Fi, 900Mhz, FCC) and Line of Sight in Part 2!
How do I get started?
Talk to us at Premier Automation. Our engineering team has in-depth experience in complex radio telemetry applications for remote monitoring in the water management industry. We can design, specify, and implement a telemetry system that will fit your budget, time frame, and unique needs. Premier Automation is passionate about finding innovative automation solutions for the success of our customers. Ready for a free consultation? We're here to help in any way we can: