Every generation of engineers tries to challenge the traditional idea of engineering — it's the nature of engineering to constantly push for more efficient, innovative ways to solve problems. Yet basic fundamentals of entire industries rarely change.
Now, with a new generation of computer-savvy engineers, a tremendous shift has started to transform the manufacturing sphere of engineering.
The recent boom of 3D printing in the last 5-10 years disrupted old ideas and values in engineering; many are referring to 3D printing as the "next Industrial Revolution". The implications are rippling throughout the engineering community and contributing to the need for another wave of progressive engineers. Students in grades K-12 are being introduced to STEM ideas earlier and earlier to address this shift, with help from private groups such as the SME Education Foundation and companies like 3D Systems.
STEM Education in Grade Schools
The SME Education Foundation is a foundation built and run by engineering professionals across the United States. Their goal? To expand interest in STEM-based learning in American classrooms, starting at very early ages.
Foundations are introducing 3D printing to STEM programs
As a matter of fact, the manufacturing skills gap seems to be growing as practical knowledge continues to decay in public schools. The SME Education Foundation challenges outdated perception of manufacturing as a dying industry to introduce students to cutting edge technologies like 3D printing.
SME partners with educators primarily to host programs and support schools financially through the forms of scholarships and grants. Their partnerships with corporations, foundations, organizations, and donors is very strong, creating excellent opportunities for students to not only experience a taste of the future of manufacturing, but to apply STEM concepts hands-on.
3D Systems
3D Systems has quite literally been at the forefront of 3D printing technology since the beginning. Their founder and CTO, Chuck Hull, is widely regarded as the inventor of stereolithography, the science that would one day become the premier form of additive manufacturing.
After patenting his process for 3D printing, Hull created 3D Systems — now a multi-million dollar 3D printing empire. 3D Systems' main goal, however, was to cultivate the next generation of engineers and manufacturers. To do that, they would need the help of an educational foundation like SME.
The Manufacturing Connection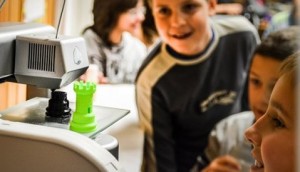 Through SME's connection with school districts around the country and 3D Systems' leadership over the additive manufacturing market, 3D printers are breaking into the classroom for the first time ever. In partnership, these two companies have created the MAKE.DIGITAL education initiative for K-12 and even STEM college students. Through the program, students have access to real, practical experience with 3D printers and engineering design.

Not only is 3D printing at the forefront of the manufacturing world, but it's also an excellent jumping off point for young engineers to become interested in engineering careers. STEM initiatives not only through this program, but all across the nation, are focusing on closing the skills gap for upcoming engineers by starting in schools.
Staying Competitive with Transformative Technology
However a manufacturer chooses to prepare for the road ahead, it can be a long and difficult process. Premier Automation understands the challenges; for over 20 engineers and 30 electricians, Premier Automation invests in continuous education and training to keep the staff up-to-date with the latest technology and best practices.
If you're seeking a partner for your next automation or controls project, contact one of our experienced professionals to schedule a free on-site visit. Find out how Premier Automation can deliver innovative answers to your toughest automation questions.