Premier Automation Partners with IAM Robotics to Offer Autonomous Mobile Robots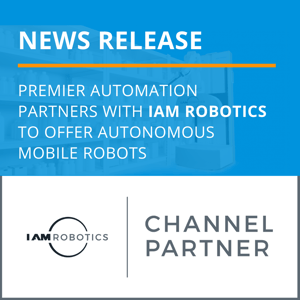 PITTSBURGH, PA – April 20, 2021 – Premier Automation is now a Channel Partner for Pittsburgh-based autonomous robotic company, IAM Robotics. IAM Robotics offers an automated material handling solution which emphasizes human and robot collaboration.
Autonomous mobile robots (AMRs) are designed to complete routine tasks—such as picking materials and transporting them from one location to another—without the need of constant supervision. AMR technology enables human employees to be more efficient, while making their work environment safer and more productive.
"We are extremely excited to bring together two strong Pittsburgh-based companies and offer ground-breaking solutions for the industry," said Mike Gunniers, Owner of Premier Automation.
Premier Automation will offer the new IAM Robotics collaborative robot, Bolt™, designed to work with and around people for handling and transporting materials within and between zones inside a traditional warehouse environment.
"This partnership allows us to provide customers with a completely automated solution, which opens the door to future innovative opportunities," said Ryan Gaudy, Manager of Robotics.
As Pittsburgh continues its transformation into a technology hub, specifically with a substantial growth in robotics and autonomy, this partnership creates new opportunities for local and regional manufacturers, distributors, and retailers to surpass their competition and solve the growing demands of today's digital world.
About IAM Robotics
IAM Robotics is the future of material handling. Our mobile robotics platform powers operational excellence in an on-demand world.
We are dedicated to building adaptable and safe robotics solutions that seamlessly integrate into any operational environment. Our team of robotics engineers and supply chain veterans work closely with partners to model, simulate, and configure optimal solutions that keep their businesses competitive.
IAM Robotics was founded in 2012 and is proudly based in Pittsburgh, Pennsylvania. The company is home to over 50 employees and supports customers worldwide.
To learn more, please visit iamrobotics.com.
About Premier Automation
Premier Automation is an engineered solutions company that specializes in providing automation, drive and electrical control solutions and services, and robotics to industrial markets. Premier Automation offers cost effective, industry specific technology solutions to help customers increase their industrial productivity, efficiency, and overall systems performance.
Premier Automation was founded in 2002 by a group of engineers in Pittsburgh. Premier Automation's vision strives to help local, national, and international companies become more technologically advanced, efficient, and competitive through innovative answers and passionate engineering.
To learn more, please visit premierautomation.com.
Interested in learning more? Contact one of our technology experts today!